The rise of the double denim chic look comes as no surprise, given the demand for casual yet cool clothing and making them wardrobe-essentials. From A-listers to fashion influencers and people staying attuned to latest updates in the fashion world – everyone is embracing the trend of denim-on-denim, inspiring designer stores, and fashion outlets to give us novel ways of denim dressing. 
Ask streetwear stylers for the denim trends, and they'd certify it as a sartorial success. Both men and women can embrace the denim style, taking a break from their usual pants and shirts or tops. The matchy-matchy look paired with leather boots, smart eyewear, and a leather handbag makes a chic statement for the fall season. So if you're planning to seek the trend, Recz has curated the best denim looks to wear all season long. 
Denim Mini Skirt by Mango & Denim Corset Top by H&M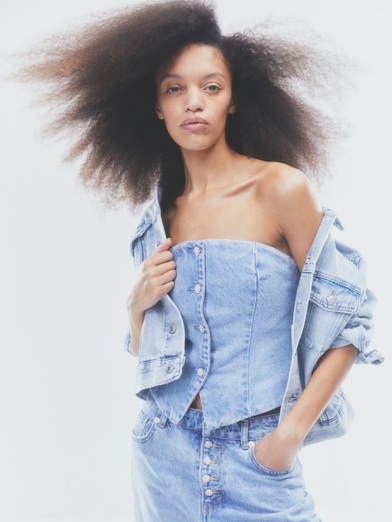 The crossed cotton denim skirt has a short and clean design with a side flap pocket and one button fastening. Pair the skirt with a denim corset top by H&M that comes with a concealed silicone trim at top, rhinestone buttons on the front, and sewn-in boning at the sides to complete your denim-on-denim casual yet chic look. 
Team your short skirt and corset with ankle-length boots and a leather sling for an elevated and new-age street-style fashion look.
Long Denim Jumpsuit by Mango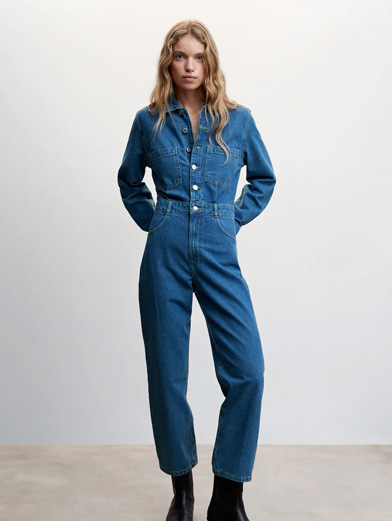 This denim-styled long-sleeved jumpsuit comes with buttoned cuffs, twin buttoned flap pockets, and two patch pockets at the front with loops and decorative seams for a casual yet chic look. Step out giving major fashion goals with this redefined denim jumpsuit – a must-have in your fashion wardrobe.
Denim Trucker Jacket & Relaxed Straight Fit Jeans by Calvin Klien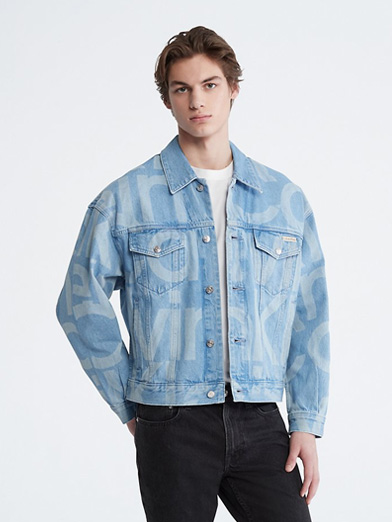 If how to wear a denim jacket is your immediate query, the denim trucker jacket by Calvin Klien is your best bet! This all-over logo printed denim jacket paired with straight fit all-over logo casual jeans by Calvin Klien is a statement style for men loving to stay ahead of the fashion curve. 
The jacket comes with long sleeves and point collar, featuring button closures down the front with fashioned patch pockets at the chest. Cut in a straight-leg silhouette, printed denim jeans have a top button closure with a relaxed fit for everyday comfy smart streetwear.
Baggy Frayed Jeans & Denim Shirt by Zara & Collared Denim Shirt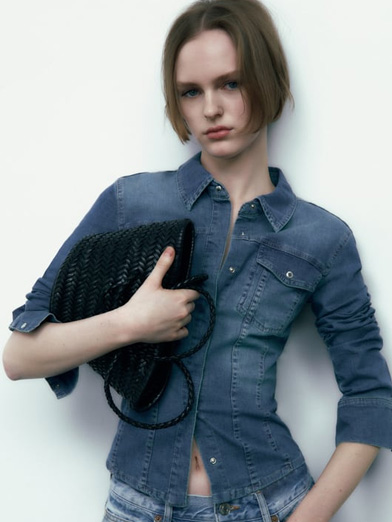 Unlike your go-to comfy pajamas, this bagged frayed denim jeans by Zara is your fashion reason to step out smart. Instead of usual distress on the front, the frayed back side is a fashion-forward new-age design, and when paired with the brand's collared denim shirt, style levels up a notch higher.
Discover the latest denim trends in fashion, most-watched movies across streaming platforms, perfect holiday spots for 2023 and sustainable fashion-forward cosmetics, and more on Recz.
Recz is a new-age recommendations-based social app that features a range of posts or stories on trending categories like fashion trends, food, travel, beauty, cosmetics, and more. These recommendations are shared by your friends, family, or close-knit circle to empower your decision-making and help you make the right choices every single time.
Come be a part of this social revolution by exploring the platform with precisely curated & organized content, just what you need.
Click on the link below to Download the App and enjoy the best recommendations from your trusted network.