The Met Gala or Met Ball held at The Metropolitan Museum of Art is a fashion playground for industry heavyweights who grace the red carpet in top-notch fashion ensembles crafted by fashion stalwarts from around the world. Met Gala, a fashion event, is about more than perfecting the fashion look – an opportunity to go big and bold that's whimsical and dramatic. Take Cher, who paired a sparkling Bob Mackie confection with sculptural earrings and a wash of lavender eyeshadow in 1985, while Rihanna won the 2015 red carpet with the help of a gilded headdress and a transformative set of eyebrows.
One of most boundary-pushing gala yet, the 2019 "Camp: Notes on Fashion"-themed festivities" saw bright palettes and even outfit transformations with Lady Gaga, who made a statement with oversized gold lashes and a head-turning platinum bob. The megastar gave us a masterclass on how to ace the Met's Red Carpet as she striped through four iconic looks. 
In 2023, the Met Gala returns with a theme that honors designer Karl Lagerfeld, and we are awaiting the day to witness the most anticipated looks at the biggest fashion event. Ahead of the big night, we've rounded up the best Met Gala beauty looks over the years.
Lady Gaga's 2019 "Camp: Notes on Fashion"
four-outfit transformation by Brandon Maxwell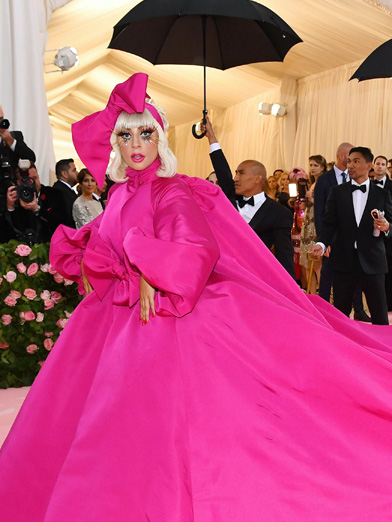 Lady Gaga's 2019 Met Gala appearance was a show-stopping tribute to the theme of "Camp: Notes on Fashion." She arrived at the event in a billowing fuchsia Met Gala gown with an extra-long train designed by her longtime collaborator, Brandon Maxwell. As she made her way up the stairs, Gaga shed the voluminous outer layers of her dress to reveal a black strapless ball gown underneath. She removed the gown to reveal a form-fitting hot pink gown with a structural bustle. Finally, she stripped down to a glittering black bra, panties, fishnet stockings, and sky-high platform boots.
Rihanna's 2015 "China: Through the Looking Glass"
yellow Guo Pei gown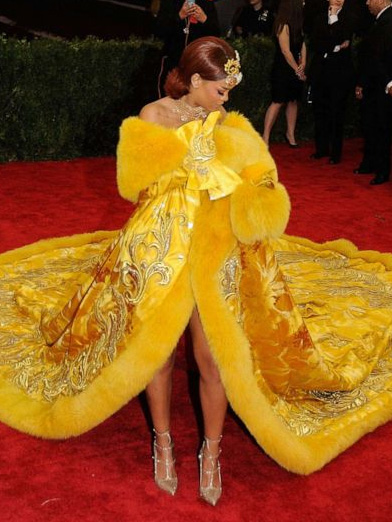 Rihanna's 2015 Met Gala gown was a stunning yellow creation by Chinese designer Guo Pei. The dress was custom-made for Rihanna and took over two years to complete. The gown featured an intricate train that measured over 16 feet long. The yellow fabric was embroidered with intricate floral designs, and the dress was adorned with fur trim and a fur stole draped over Rihanna's arms. The dress featured a high collar wrapped around Rihanna's neck like a cape, adding to the drama. 
Zendaya's 2019 "Camp: Notes on Fashion"
light-up Cinderella dress by Tommy Hilfiger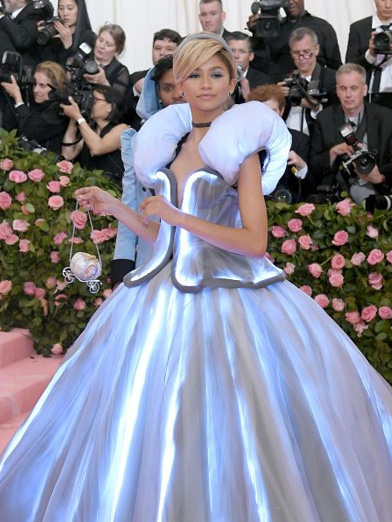 Zendaya's 2019 Met Gala beauty look was a show-stopping light-up Cinderella dress designed by Tommy Hilfiger. The dress was inspired by the classic Disney princess, featuring a powder blue hue, a full skirt, and a corseted bodice.
The dress was decked in hundreds of fiber-optic lights that twinkled and glowed as Zendaya made her way up the red carpet. The lights were controlled by a small battery pack hidden in the dress, allowing the star to move seamlessly. 
Billy Porter's 2019 "Camp: Notes on Fashion"
entrance on a throne carried by six shirtless men while wearing a custom gold ensemble by The Blonds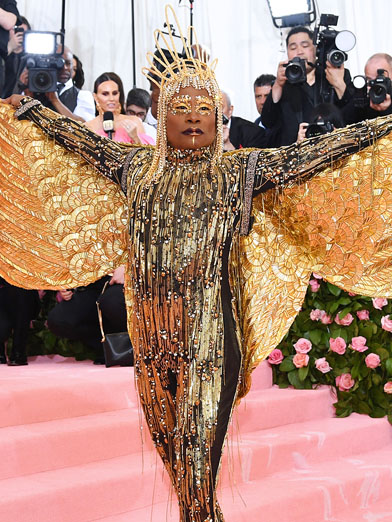 Billy Porter's entrance at the 2019 Met Gala was a true statement-making moment. The "Pose" star arrived on a custom-made throne carried by six shirtless men, all dressed in gold. Porter's own outfit, created by fashion design duo The Blonds, was a stunning gold ensemble that featured a fitted catsuit with a matching cape and a 10-foot wingspan.
Looking for a fashion event, movies, travel, or book reviews? Recz, a community-based social app, features tried and tested conversations by your friends, fam, and peers. Through our authentic and curated content on a range of topics like fashion, movies, books, recipes, travel, stocks, and more, you can make your next best decision – a foolproof plan. 
Click on the link below to Download the App and enjoy the best recommendations from your trusted network.