Happy Monday in May! This year too, global fashion icons, celebrities, and power personalities slipped into their best dress to serve us some jaw-dropping looks at the biggest fashion event of the year held at the Metropolitan Museum of Art. 
The Met Gala 2023 theme for this year's event was "Karl Lagerfeld: A Line of Beauty," and industry heavyweights paid tribute to Lagerfeld's legacy – the late designer who helmed fashion houses such as Chanel, Fendi, and his eponymous line, by donning monochromatic palettes on the Met Carpet, that was new-age and celebratory. 
Who walked the Met Red Carpet? We saw a line of supermodels like Gigi Hadid, Kylie Jenner, and Naomi Campbell, actors like Priyanka Chopra, Anna Hathaway, Miranda Kerr, Michelle Yeoh, Alia Bhatt, Jenna Ortega, designers like Tommy Hilfiger and Dee Hilfiger, Prabal Gurung, music stars like Lizzoo, Doja Cat, Rihana, and more. These celebrities walked the met red carpet, giving us a master class on how it's done. 
Met Gala Best Looks of 2023
In the Recz edit of best fashion moments at the Met 2023, we've scoured the best looks on the red carpet that won big in their style statement look and gave us what we look for – major!
Rihana and A$AP Rocky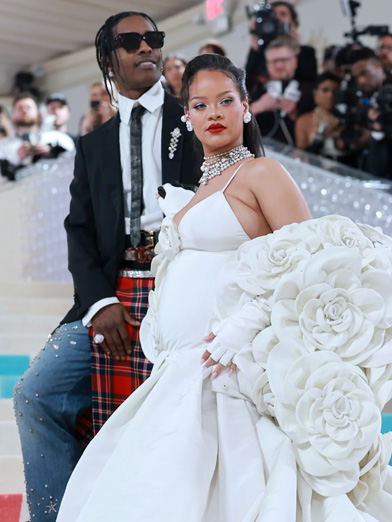 The mogul's maternity style was certainly the best dressed at the Met 2023. Her Maison Valentino gown featured a long, sweeping train and a structured ivory top covered in rosettes. As the couple ascended the staircase, Rihanna pulled down her rosette-covered top, revealing a bodice slip gown with spaghetti straps and a plunging neckline.
The rapper complemented Rihanna by wearing a custom Gucci ensemble consisting of a black blazer, a white collared dress shirt, and a high-low red plaid pleated kilt topped over his bedazzled baggy jeans.
Gigi Hadid
The 27-year-old supermodel rocked the sexy black corset dress by Givenchy and vowed us as she posed in her bold and fashion-heavy style. Her dress featured a strapless corset top, a low-rise dark skirt embellished with feathers, a black tulle overlay that flowed into a train, and three pearl strings around her neck.
Hadid added a pair of sheer gloves, simple stud earrings, and a pair of black stilettos for her eighth appearance at the biggest fashion event.
Naomi Campbell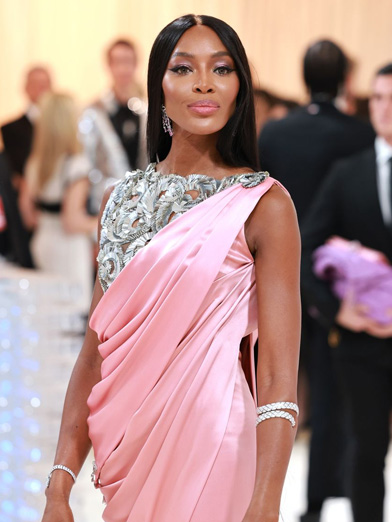 The supermodel looked nothing less than a goddess at the star-studded fashion event. She chose a custom drape saree from Chanel's spring/summer 2010 couture collection – a luscious pink fabric draped over one shoulder with a gleaming silver sequin bodice and matching silver trim. 
She rounded her look with silver accents like silver arm cuffs and metallic strappy heels.
Kendall Jenner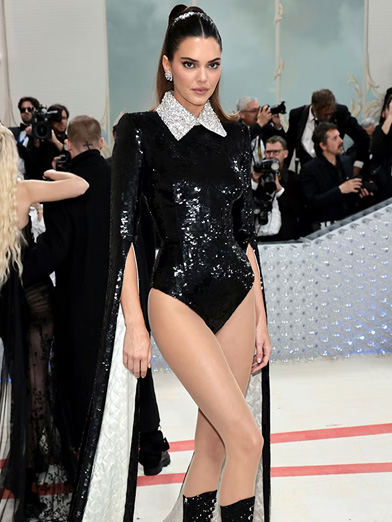 Extra cheers to the supermodel for carrying the no pants styled Marc Jacobs body suit at the annual fashion event. As she ascended the carpeted steps of Met 2023, she certainly showed how it's done! 
Dripping in sparkles and a little else, her body suit included extra-long dramatic sleeves with white quilted lining that trailed behind her like a split cape as she graced the event in those bold platform black boots. 
Alia Bhatt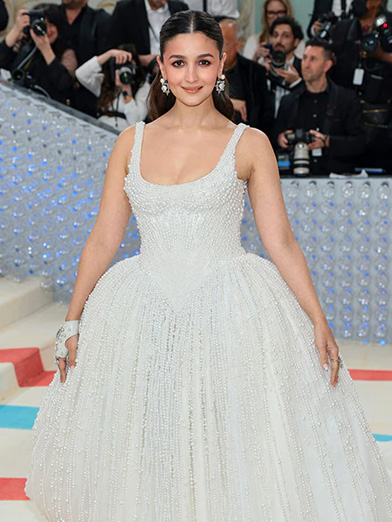 Famous Indian star Alia Bhatt made heads turn in her dreamy white gown from Prabal Gurunga adorned with 100,000 pearls and proudly made in India. The actress had her 'priceless princess moment ' on the red carpet as she walked in fresh nude makeup and not to mention her million-dollar smile. 
Striking a reference to Chanel's iconic brides, the actress honored Karl's legacy in her statement bow of pearls on her hair and embellished fingerless gloves. 
Want to learn more about the latest fashion trends, movie shows, awards, books, cosmetics, travel, and more? Recz is a community-driven social app that features authentic and curated content shared by your friends, fam, and peers. With easy-to-use and immersive app features, Recz is a unique new-age app that helps you make your next best decision! 
Click on the link below to Download the App and enjoy the best recommendations from your trusted network.