Easter is just around the corner, and with happy thoughts of having a great fam jam comes choosing a sartorial dress that emanates spring vibes, appears floral, and is just perfect for Easter brunch with friends and fam. 
Come Easter, little ones prepare for egg hunts, chocolate Easter bunnies, and colorful eggs. Make a fashion statement at your annual Easter party from our list of floral and chiffon silhouettes that successfully embrace new beginnings and happy seasonal vibes.
From chiffon maxi dresses to feminine florals, we've curated the best Easter dresses you'd consider shopping for Easter Sunday brunch. 
Broderie Anglaise Dress by H&M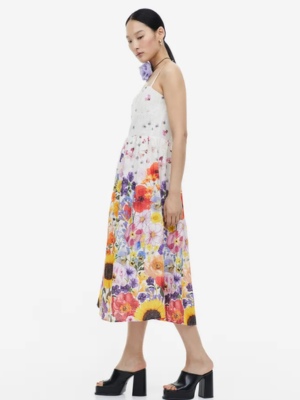 If you love florals that come with subtle minimalism, the borderline single-strap floral printed dress by H&M is your best bet. The sweetheart neckline-shaped cups and fitted bodice give a sheer sensuality while maintaining the flamboyant theme of this floral flared skirt dress.
Team it with oversized hoop earrings, strappy heels, and a basket bag for stashing Easter candy in your playful, bright dress. 
Floral Maxi Dress by Astr The Label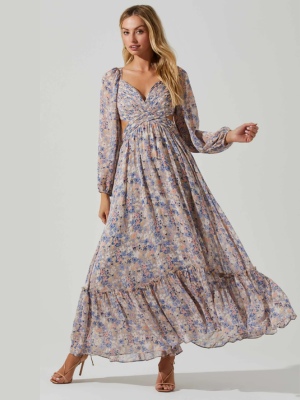 Another floral charm to your feed by Astr The Label. Featuring a romantic floral print and pleated bodice preceded by a V-neckline, the flowy maxi ruffled dress is a statement style you can pick for your Easter get-together. The Easter dresses women maintain a subtle grace without being too seductive yet strongly feminine and pretty.
The open back with cross straps tied down at the bottom and long sleeves add to the flair (and flare), making an absolute pick for the day and how! 
Bella Bow Mini Dress by Bardot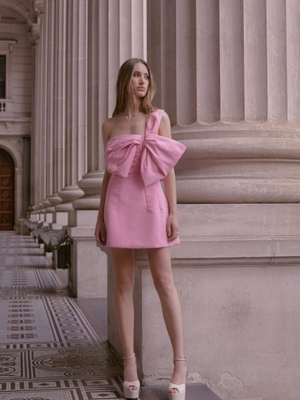 The exaggerated bow on the color-blocked pink mini-dress adds to the playfulness – best suited for an Easter Sunday. The daring bow enlivens the subdued pink color, and teaming it with a pair of sandals for your noontime party is the best sartorial choice you can make. The dress has internal boning in the bodice for structure and seamless fit. 
For evening events, you can pair the dress with heels and glimmering diamond earrings with tied hair to complete the look.
Asymmetrical Maxi Flower Dress by Mango
Not inclined to florals? Polka dots Easter dresses for girls are here to level up your fashion game. The asymmetric long one-shoulder dress features an elegant spot print with a long flared sleeve and gathered details. The fitted bodice elevates the style for your scene-stealing entry on Easter brunch.
The dress is lively and super chic. If you're bored with maximalist florals, this modern silhouette is crafted for you. Also, they offer plus-size easter dresses and toddler easter dress too.
Want to know more about what's latest in fashion, movies, books, travel, and more?
Download Recz, a community-based best recommendations app that features tried and authentic recommendations on a range of trending topics from your friends, fam, and peers.
Recz is unique and organized. Instead of your random scrolls in a haphazard arrangement of random content, the space is decked with meaningful content curated by you and your close-knit circle.
Make foolproof plans and choose the best every single time with reliable recommendations from your trusted connections. Plus, you can share too.
Share stories, plan getaways, Netflix, and chill and add extra fun to your happy days with Recz that empowers you and your choices.
Click on the link below to Download the App and enjoy the best recommendations from your trusted network.