One question every Indian living in New York asks is, " can you recommend a good Indian restaurant?" and we couldn't complain. Lauded with hole-in-the-walls to elegant dine-in spaces, the city boasts brimming Indian restaurant New York that embrace the diversity of Indian cuisine in their offerings. Of course, the ethnic makeup of the restaurant's patrons measures its authenticity and taste, but in NYC, it's hard to stop at one. 
From Mumbai's vada pav to Lucknow's kulfi faluda, every regional Indian delicacy is just a walk away in NYC. From regional Indian delights and traditional meals to much-loved Indian desserts from underrated chefs, we've scoured the 'best of' Indian eats in one place. Consider this your secret book of recz to finding the best Indian culinary experience in the Big Apple. 
Pondicheri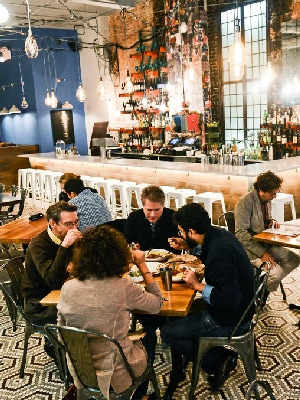 Pondicheri offers a modern take on traditional Indian food with a focus on serving fresh and authentic Indian taste. The place has plenty to offer – from butter chicken and lamb keema to bhel puri and vada pav. 
Pondicheri has a bright atmosphere and vibrant decor with an inviting aura. Its open kitchen allows guests to watch the chefs at work. The restaurant has received positive reviews for its innovative and flavorful cuisine and courteous staff. 
Jackson Diner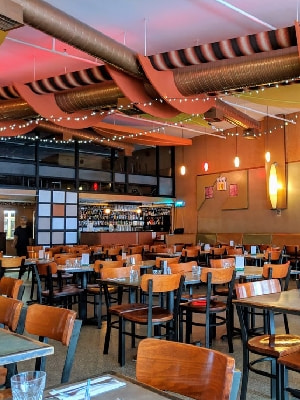 Jackson Diner is an Indian restaurant in Jackson Heights, Queens, New York City. It is known for serving authentic Indian cuisine in a casual, family-friendly setting. The restaurant has been a popular spot for Indian food enthusiasts since 1982.
The place offers a range of regional Indian delicacies, including veg and non-veg options. Their best-sellers include chicken tikka masala, lamb rogan josh, saag paneer, and biryani. Plus, they offer a lunch buffet with a rotating selection of dishes. Looking for New York best Indian restaurant? Jackson Diner is your place! 
Chola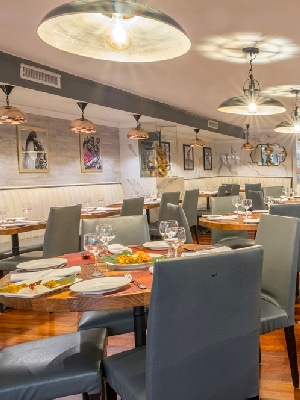 Chola is known for its elegant and modern decor. The place, located in the Midtown East neighborhood of Manhattan, New York City, is known for recreating traditional Indian dishes with a fresh mix of diverse flavors.
Visiting the place for its butter chicken, lamb vindaloo, goat biryani, or tandoori chicken will be one of your best decisions. The restaurant has been lauded by various media outlets, including The New York Times, Zagat, and Michelin Guide.
Tamarind Tribeca
Tamarind Tribeca is an upscale Indian restaurant in NYC known for its sophisticated ambiance, attentive service, and inventive take on classic Indian dishes.
Their menu features a fusion of Indian and contemporary American cuisine: chicken tikka masala, lamb chops, tandoori salmon, and goat curry. They also have an extensive wine and cocktail list.
Tamarind Tribeca features a private dining room to accommodate up to 50 guests and a lounge area for pre-dinner cocktails or post-dinner drinks.